Angular + NativeScript = ❤
The NativeScript core team works with the Angular team at Google to ensure NativeScript and Angular are seamlessly integrated. If you know Angular, you're already ready to develop amazing native mobile apps with NativeScript. With NativeScript and Angular, a single code base (and skillset) can be used to create web apps and native mobile apps with 100% native performance and power. Buttery smooth animations, direct access to 100% of the native platform APIs, it's pretty amazing.
One skillset. One code base. Three platforms: iOS, Android, and Web.

Learn more on the Angular blog.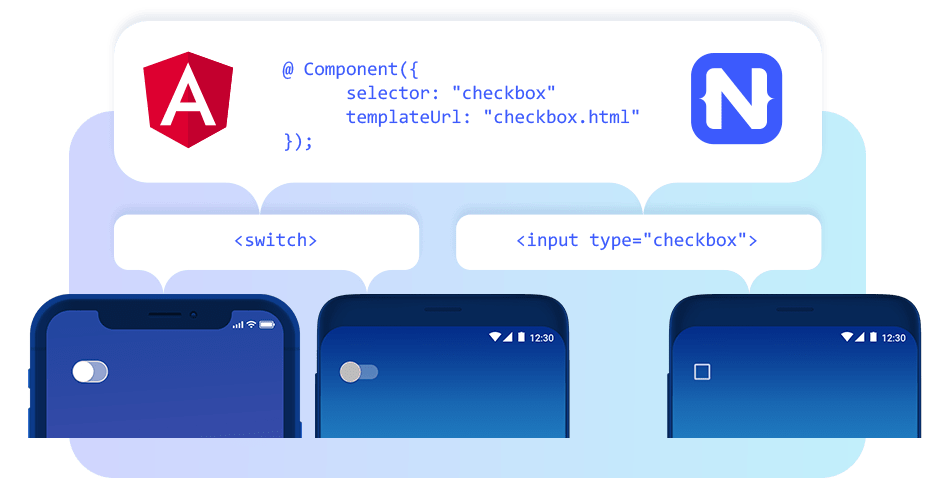 Using Angular with NativeScript
Using Angular with NativeScript is a snap. From your terminal or command line, just start a new project with this command:
$ tns create my-angular-app --ng
This will create a new NativeScript project with all of the necessary Angular files, folders and settings ready to go. By default, Angular projects use TypeScript, so NativeScript will also handle all of the TypeScript setup and configuration. Learn more about NativeScript and TypeScript.
Once you've got your project, it's time to build your native mobile app! Use these resources to get started quickly:
Documentation
Our documentation will help you learn the ins and outs of making truly native mobile applications with Angular and NativeScript.
Angular + NativeScript Docs
Why use Angular with NativeScript?
Application Structure and Plumbing
Angular provides all of the plumbing necessary to create high quality, highly maintainable NativeScript apps. Reuse Angular concepts such as data binding, dependency injection, services, and routing to build native mobile apps.
Code and Skill Reuse
Work smarter, not harder, right? Use Angular and TypeScript to build "native" apps for the web and, with NativeScript, for iOS and Android. You can even reuse JavaScript npm modules, as well as native iOS CocoaPod and Android Arsenal libraries, directly in NativeScript.
Native Mobile Performance
With NativeScript, you can finally create zero compromise mobile apps with Angular that feature truly native UI and performance. Enjoy glorious 60fps without being a CSS or JavaScript wizard, even on Android. Say goodbye to mobile jank.
Angular Community
Tap into the huge Angular developer community, more than 1 million strong, to get extra help, training and reusable code that can be directly applied to NativeScript mobile projects. NativeScript is the way for Angular developers to create native mobile apps.